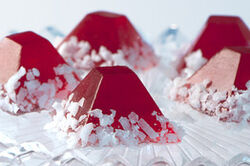 Would you ever use Jell-o as a medium for serious works of art? According to The Wall Street Journal, Jell-o is no longer a humble dessert; it is now being used by avant-garde chefs and artists alike! Everything from jell-o sculptures to a new haute fusion cuisine of "gelatinas," gourmet jell-o cakes that have the flavor and texture of both.
Companies are moving quickly to accommodate this new trend. Powerhouse Kraft Foods plans to launch a marketing campaign this fall, known internally as "Mold Mania," introducing new molds, such as one in the shape of a brain for Halloween. Meanwhile, newer companies such as Blooming Gelatin Art specialize in gelatinas, which can be quite ornate and decorative.
Check out some artistic jell-o offerings! Will you serve gelatinas instead of cupcakes next time you host a party?