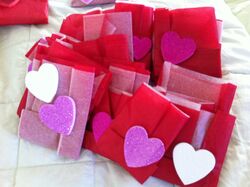 Try something new this Valentine's Day! Don't put your treat or present in a boring bag or box, craft your own package. This is a super easy way to be creative and show your valentines how much you care!
Paper crafts
Very Easy
Foam, glittery heart with an adhesive back ( or whatever kind you want to use, just make sure to have a way to attach them)
Two colors of tissue paper
Ribbon
Scissors
Step One:Cut the tissue paper into the shapes and sizes you want. This will depend on the size you want your package to be.
Step Two:Arrange the tissue paper and choose which color you want on the outside and inside, this can alternate as well.
Step ThreeFold the paper into the desired package. This is up to you, it can be as simple and folding it similarly to an envelope and making sure the three sides are closed, leaving one side open to insert the present. Make as many folds as you want. This can be done without tape or glue but feel free to construct it as you would like.
Step Four Insert your present.
Step Five Fold the final side and secure this side with the adhesive heart.

Another choice is to secure it either with the ribbon, glue, or tape and to use the heart as decoration.

Step Six: Add the ribbon decoratively.
Step Seven: Give to your loved one!
Community content is available under
CC-BY-SA
unless otherwise noted.