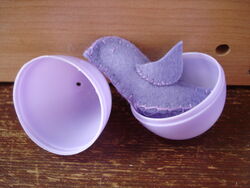 This fun little bird is hand sewn using wool felt and embroidery floss. These little guys were designed to fit into plastic Easter eggs and are a great spring toy!
Sewing
Easy
Wool felt
Wool roving
Cotton embroidery floss
Scissors
Needle
Pins (optional)
Cut two body pieces from wool felt using the pattern found at http://moosaidthemama.blogspot.com/2011/03/wool-felt-toy-pattern-baby-bird.html
Embroider eyes using cotton embroidery floss. The french knot stitch or satin stitch works well for the eyes.
Sew body pieces together using the blanket stitch.
Attach belly piece to the base as indicated. Remember to leave an opening near the tail for stuffing.
Stuff the bird with wool roving.
Sew closed the opening using the blanket stitch.
Sew wings to the sides of the bird using a satin stitch or blanket stitch.
Community content is available under
CC-BY-SA
unless otherwise noted.