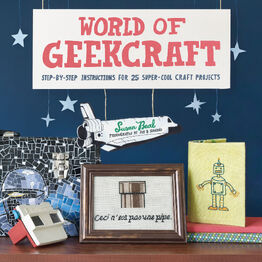 I am so excited that Easy Crafts is a part of the World of Geekcraft blog tour. I'm a little obsessed with craft books and tend to have stacks and stacks of them on my desk here at Wikia. My stacks of books draw a lot of attention from co-workers, maybe they think I'm a hoarder, or maybe they're just curious about what I'm reading. The one book that has gotten more attention than any other has definitely been World of Geekcraft which gets picked up, commented on, and flipped through daily. I love that the majority of people doing the commenting and threatening to steal my copy are guys. Not only did author Susan Beal pull together an awesome collection of geeky crafts, she did something else, which is no small feat-- she got the guys excited about crafting too. And she proved that ladies can get down with the geek crafts and nerd out just as much as the dudes. In honor of this awesome book that's been drawing a whole lot of attention from everyone here at Wikia I put together a little gallery of images of my co-workers posing with their favorite project from World of Geekcraft. Maybe we'll have a craft night here and see if we can't whip up some of these sweet projects.
To follow along with the rest of the blog tour check out the schedule below. To win your very own copy of this book leave a comment on this post, we'll randomly pick a winner and announce it next Friday the 13th. Make sure you are logged in when you comment or create an account before you comment so we can notify you if you win!
Community content is available under
CC-BY-SA
unless otherwise noted.